by Doctor Science
xkcd provides a 2016 conversation guide, for those pesky "Is this the future?" discussions.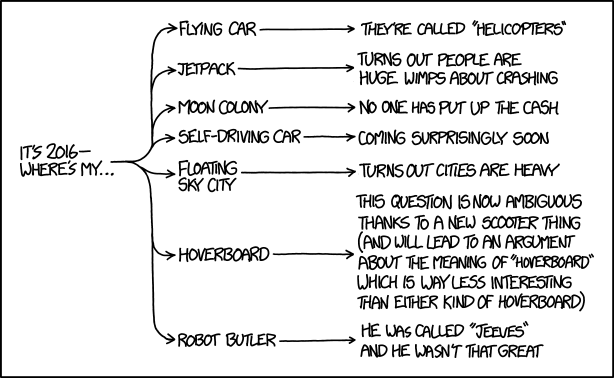 For me personally, 2015 has brought the usual mixed bag, but leaning more good than bad:
house purchase
house renovation
getting back into science fiction & fantasy fandom
both parents still alive and in generally excellent health (ages 88 and 90)
read good books, watched good movies
But for the world in general, I'm not so sure. Though the Paris Climate Treaty is encouraging, the fact that one of our political parties is in thrall to wealthy CC-deniers is not. My current apocalyptic worries are along the lines of the "Jackpot" in William Gibson's The Peripheral, where it's not one thing that collapses civilization, but a bunch of catastrophes lining up like bells on a slot machine.
And for the US, we're all going to be playing a game called Fear and Loathing on the Campaign Trail.
I, at least, will be cultivating a new garden ...