by Edward
Generally, I find most overtly political art too obvious and the motives of those making it far too suspect. Literally within two weeks of 9/11, we received proposals in the gallery for exhibitions dealing with the attacks. As the months went on, the proposals increased. I recall at the time thinking, I'm not even sure I know how I feel about any of this, I can't imagine any artist could have taken the time to sort out how they feel and then processed that through a rigorous process. Obviously it's silly to put a time frame on it, but I did have a sense that an artist would need longer to deal seriously with what they felt about 9/11. At least longer than two weeks.
Even by the time Eric Fischl's controversial sculpture "Tumbling Woman" was removed from the Rockefeller Center's Lower Concourse (well over a year after the attacks), it was apparent that even if artists knew how they felt about the attacks, the public was not yet ready to deal with it.
But that raises the question of whether an artist should wait until the public is ready to deal with the content of what they feel compelled to make. Perhaps the best political art forces people to realize what's happening in hopes of changing it before it's too late. But that doesn't seem to be the case here, where nothing was going to change what happened on 9/11, and images of burning towers and such simply struck me as exploitative and/or crass.
That's perhaps why I'm suspect of the artwork coming out of Iraq, where what I'd normally consider rather minor artists (in terms of the world stage) are making headlines with images that reference the abuses at Abu Ghraib:
The subjects in each of Nasir Thamer's works are trapped behind bars, real or painted. Since the Abu Ghraib prison scandal, the trauma of the occupation has seeped even into Iraq's artistic production.

"I used to paint scenes of traditional Iraqi life, Arab doors, mosques and letters from the Koran," says the 47-year-old artist. "This is a radical change for me but you just can't escape reality."

One of his paintings depicts an Iraqi child running away from a US Apache combat helicopter towards his mother. The corner of the canvas where the woman was painted is ripped out, revealing black bars in the structure of the frame.
I'll admit up front: I'm an awful snob about contemporary art and, based on this one image, I would wholeheartedly agree with Thamer that his metaphors are "crude" (I'm not too fond of his painting ability either, but that's another post). I do recognize the need he describes to resort to such direct methods because of the rude awakening events have forced on him (other very good artists reported the same urge after 9/11), but I reject the assertion that that all-too-human response results in art of any lasting value. Sure he may need to make it, but that doesn't mean we need to see it, and we certainly don't need to pretend it's good.
In my opinion, the artistic approach toward such atrocities with the most integrity is the "simply record" approach. Metaphors and such take reflection and time, IMO. If Thamer must paint what's happening (and I believe he sincerely feels that way), he should leave his bag of metaphorical tricks aside and just paint what he sees.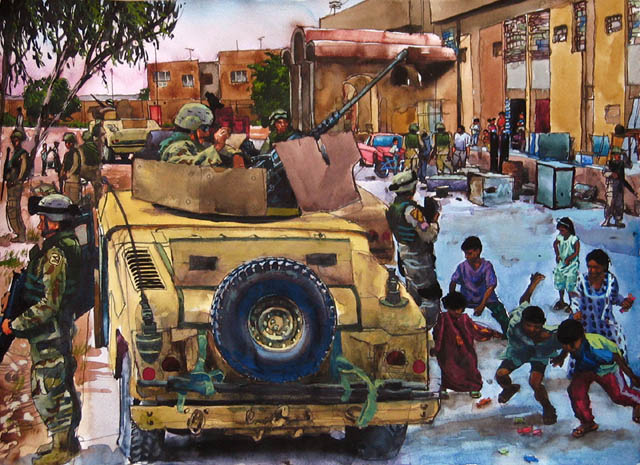 One of the best artists taking this approach IMO is the US painter Steve Mumford. Steve's usual work is as "inventive" as all get out, but when he traveled through Iraq (on several occasions) the work he made rang true because it began with a simple assertion: this was much bigger than he was. So he simply recorded it. This is about as honest a response as I believe any artist can offer to events as they unfold. Again, I'm convinced that the best metaphors require a bit of reflection and introspection. Perhaps sometimes an epiphany can provide immediate insight of lasting worth, but usually the work I see in immediate response to monumental events is trite and, in that way, disrespectful.